Shipping Your Laptop or Device For Repair
If you don't have a box to ship your unit, please take your laptop, AC adapter and battery to UPS Store, FedEx/Kinkos or USPS and have it professionally boxed. FedEx has boxes designed for shipping laptops.
Make sure you DO NOT place the AC adapter on top of the laptop as it can break the lcd screen during shipping. Place it beside the laptop in the shipping box.
Wrap your laptop or device in bubble wrap or fill with packing peanuts to make sure it doesn't slide around or bounce during shipping.
If you are sending us your laptop because of software or possible bad hard drive issues, please be sure to send the original cd's that came with your computer.
Be sure to get a tracking or confirmation delivery number
Ship to:
CompuNet 
13428 S. Normandie Ave. Gardena, CA 90249
Make sure to include ALL your contact information telephone, email,etc.
We will contact you within 24 hours after received to give you a FREE Repair Estimate and upon your approval we will fix it and ship it back to you as soon as possible.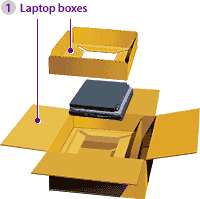 Frequent Asked Questions:
Q. May I keep my hard drive?
A. Yes. We understand that data is confidential and valuable to you. We will use our hard drive to test your computer. Keep in mind if your hard drive was damaged when your laptop died your laptop may not work when your hard drive is re-installed. If you choose to send your hard drive with your laptop, we will not touch your data
Q. Do I need to send in my AC adapter ?
A. Yes, it is better to send the adapter with the computer so that we can validate that it is working normally.
Q. How do I pay?
A. You pay when the repair is complete. We will call you to confirm shipping address and you will be able to pay via Paypal.
Q. What components usually go bad on the motherboard?
A. Power chips, BGA video chip, north-bridge, south-bridge, fuses, resistors, inductors, controller chips, DC Connector, Memory, LCD,etc...
Q. Can I just send the motherboard only?
A. No, we need to have your laptop here to fully test it and be able to give you FULL warranty.
Q. What if you can't fix my computer or item?
A. If we deem your computer or device is not repairable then we do not charge anything for the labor above unless any work performed or any part replacement that you authorized.
Q. How long does it take to repair?
A. Most repairs requiring a single chip replacement normally take 5-7 business days. However a repair can take several weeks if the MB has several issues requiring multiple chip replacements. Unfortunately, the diagnostic tests can only detect one chip issue at a time. We offer same day services for power jack and LCD repair IF we have the replacement part in stock.
Q. Who pays to ship the laptop in?
A. You are responsible for shipping your laptop or device in at all times.
Q. If I'm sending other device beside a laptop...?
A. The above general rules apply.